Are you passionate about a cause and looking for ways to contribute?
There are many foundations in need of support, and certain colors or designs that represent their cause. Pink ribbons represent the fight against breast cancer, while yellow signifies support for our troops. Countless other colors embody a variety of causes and charities… You can proactively help these foundations by increasing awareness through lanyards!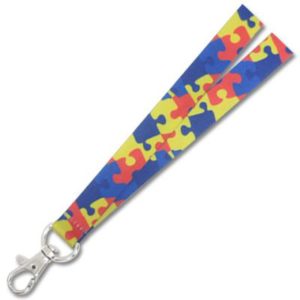 Below you'll find a list of multiple colors and the cause they represent. Now…
1. Find a charity you're passionate about.
2. Order our custom lanyards in the design that represents that charity.
3. Hold a fundraiser walk for your charity! Have participants donate money for their lanyard, and turn in the profit to your foundation.
It's that simple! YOU can easily make a difference. Start with lanyards for a cause.
(Original list courtesy of TrinityLondon.com)
Pink: breast cancer awareness, birth parents, childhood cancer awareness
Yellow: supporting our troops, MIA/POW, suicide prevention, adoptive parents, amber alerts, bladder cancer, spina bifida, endometriosis, a general symbol for hope. A yellow ribbon with a heart is used to represent the survivors left behind after a suicide.
Rainbow: gay pride and support for the LGBT community and their quest for equal rights
Pale Yellow: spina bifida
Red: AIDS and HIV, heart disease, stroke, substance abuse, MADD, DARE, Epidermolysis Bullosa, Reflex Sympathetic Dystrophy
Burgandy: brain aneurysm, Cesarean section, headaches, hemangioma, vascular malformation, hospice care, multiple myeloma, William's syndrome, Thrombophilia, Antiphospholid Antibody Syndrome, adults with disabilities
Purple: pancreatic cancer, testicular cancer, thyroid cancer, domestic violence, ADD, alzheimer's, religious tolerance, animal abuse, victims of 9/11, Crohn's disease and colitis, cystic fibrosis, lupus, leimyosarcoma, fibromyalgia
Lavender: cancer awareness, epilepsy, rett syndrome
Periwinkle: eating disorders, pulmonary hypertension
Blue: police force, drunk driving, child abuse, Osteogenesis Imperfecta (OI), the victims of hurricane Katrina, dystonia, acute respiratory distress syndrome (ARDS), alopecia, Education, Epstein-Barr Virus, Save the Music, colon cancer, colorectal cancer, anti-tobacco
Dark Blue: arthritis, child abuse prevention, victim's rights, free speech, water quality, water safety
Light Blue: childhood cancer, prostate cancer, Trisomy 18, scleroderma
Teal: ovarian, cervical, and uterine cancers, sexual assault, polycystic ovarian syndrome, tsunami victims
Green: childhood depression, missing children, open records for adoptees, environmental concerns, kidney cancer, tissue/organ donation, homeopathy, worker and driving safety
Orange: leukemia, hunger, cultural diversity, humane treatment of animals, self-injury awareness
White: innocence, victims of terrorism, violence against women, peace, the right to life, bone cancer, adoptees, retinal blastoma
Pearl: emphysema, lung cancer, mesothelioma, multiple sclerosis
Black: mourning, melanoma, gang prevention
Brown: anti-tobacco, colon cancer, colorectal cancer
Grey: diabetes, asthma, brain cancer
Silver: children with disabilities, Parkinson's disease, mental illnesses such as severe depression, bipolar disorder, schizophrenia, and anxiety disorders
Gold: childhood cancer
Jigsaw:  autism
Lace: osteoporosis
Pink & Blue: miscarriage, stillbirth, infant death due to SIDS or other causes
Red, White & Blue: victims and heroes of the 9/11 attacks, patriotism, support of our troops