Our friends at MadeToOrder have a lot to be happy about. Not only do they have a great working environment and employee retention, they are being recognized for it! Counselor Magazine recently ranked MadeToOrder at number 10 in the Top 75 places to work in the advertising specialty industry.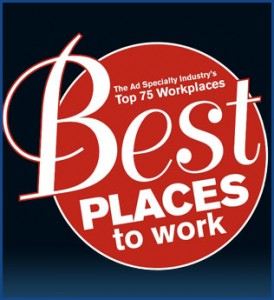 The 75 companies ranged in location across the United States and Canada.
Not only did MTO rank 10th overall, they also came in at 7th in the best companies with under 50 employees, the best companies for benefits, and the best companies for employee loyalty. They came in at number eight for the best companies for employee recognition and the best companies for manager effectiveness. Talk about a great place to work!
Headquartered in sunny Pleasanton, CA, MadeToOrder has several branches, all possessing this winning corporate culture that landed them the 10th spot. Branches are located in San Diego, Portland, Silicon Valley, Washington DC and Las Vegas.
Check out this press release regarding the San Diego branch and American Lanyard's very own, Kevin Spawn.